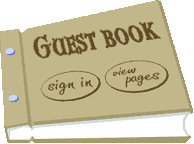 To Karen B., my friends locally and around the world .....and also to my NEW cyberfriends

" Thank-You " for all the e-mail and help which has taught me how to use the computer !

Special thanks to my e-mail buddy " STARSURFER "  for  all the computer knowledge that I have gained from her...Please check out my " links " page to see her banner along with other websites you might like to visit!

           Ladybug  Online

Come along cyberpals, surf in

the cyberbugmobile with us !  But please remember to sign in

the guestbook before you leave...

  To My Whimsical Place in Cyberspace !

SKATEBOARDING  was the way our son

liked traveling!  Gone are the days of being a 'Soccer Mom' or cheering alongside the

BMX bike racetrack.

Hope you'll BEE back one for a visit one day !

Just click over the "SIGN IN" or to see what others

have written click "VIEW PAGES"....

If you don't sign it how will I know that you were here ?

I've been having a great time just  LADYBUGGIN  along, crawling through the World Wide Web or flying throughCyberspace at my

own little pace...

Thanks  SEW  much for visiting my website, YOU are what keeps my  FRIENDSHIP GARDEN growing !  I hope you'll be back again

one day  soon to see my more pages of my FUNSTUFF !

Please click on the Toothfairy to fly to my Toothfairycyberspace dental site.

In folk medicine it was believed that if you put mashed LADYBUGS

into a cavity it would stop a toothache !  Well anyways...I have

been working in Dentistry for over 30  years and I still believe in the

                                   " TOOTHFAIRY "

Some days you are the BUG and some days you are the windshield   !!!

       2000-2010 All Rights Reserved

         ~ Ladybugcyberspace ~

RAINBOWS are often associated with spirit, a gateway or bridge

to heaven or other dimensions, a symbol of hope, peace and unity ...

                                ( Midi playing " Over the Rainbow  " )